Information for Producers
Launch and build your food business with lowered risk and minimized start-up costs. UT Extension, Cannon County Kitchen rents on a daily basis to individuals for manufacturing food items for retail sale. You can start with us, grow with us, and when the time is right, move into your own kitchen.
Our Kitchen Space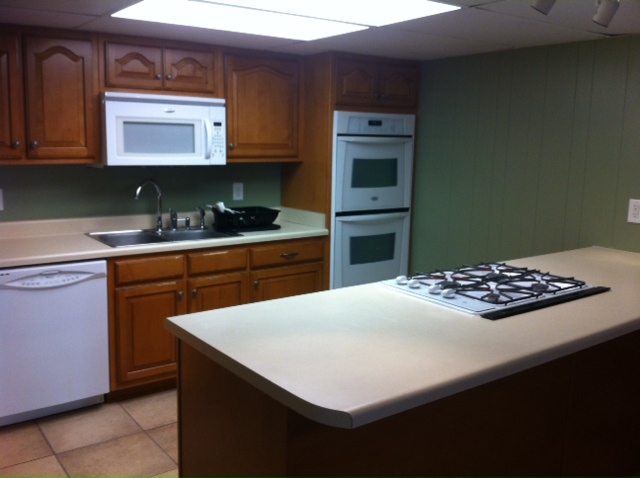 The UT Extension, Cannon County Kitchen is approximately 470 square feet of kitchen space. When you use the kitchen, the kitchen is entirely yours. UT Extension, Cannon County provides a fully equipped, commercially licensed shared-use kitchen available for rent.
Whirlpool Gold Double Oven Including a Convection Oven
Gas Cook-Top Range with Down-draft Ventilation
Kitchen-Aid Professional 600 Series 6 qt. Stand Mixer
123 inch Whirlpool Gold Refrigerator with Drawer Freezer and Ice Maker.
Quick Links and Information
Kitchen Operating Agreement
Online Domestic Kitchen Class
Getting Start in a Food Manufacturing Business in Tennessee
How Will Your Food Be Regulated – PB1604
Manufacturing Acidified Foods in Tennessee
Manufacturing Formulated Acid Foods in Tennessee
Make An Appointment to see the Kitchen
Contact the UT Extension, Cannon County Office at
(615) 837-5193
Equipment Summary
Ingredients and Specialized Equipment
You'll need to bring your own ingredients and specialized equipment. If you are using the kitchen consecutive days you may store your items overnight.
Cleaning and Supplies
Each customer is responsible for cleaning the kitchen as part of their kitchen use, including all equipment, tables and floors. Customers will need to supply the necessary cleaning supplies, paper towels, hand soap and all consumables.
Rental Rates
The UT Extension, Cannon County Kitchen is available for rent on a day to day basis for $40.00, and we're committed to offering a low rate. If you're interested in reserving time in the kitchen, we can work with you to schedule time for anywhere from a one-time use, to reserving regular, recurring time slots for an entire month. The kitchen is available on a first-come, first serve basis.
Getting Started
The first step for most prospective clients is to give us a call or send us an email in order to make an appointment to see the kitchen. Since someone is not always available for drop-in showings, it's important to make an appointment first.
Once you are ready to get started, we require just five things
A valid Domestic Kitchen Food Safety Course Certificate offered by the University of Tennessee.
Proof of liability insurance with UT Extension, Cannon County Kitchen listed as additional insured.
Tennessee Department of Agriculture Regulatory Services Food and Dairy inspection to permit manufacturing food for sale. Contact Carol Hughes, Inspector at (615) 837-5193.
A signed Operating Agreement with UT Extension, Cannon County Kitchen.
Copy of Tennessee Department of Agriculture Kitchen Inspection.
Many of our clients visit us early in their planning process, after which we don't hear from them until a few months later when they are ready to get started. So don't hesitate to call us even if you're not sure of everything else quite yet. We understand that many people that are new to our space are also new to running their own business. There's no pressure, and we may even be able to help you out, as we have a number of other new, small business owners.
Recommended Publications ( See Helpful Links on this page)
Getting Started in a Food Manufacturing Business in Tennessee PB 1399
How Will Your Food Be Regulated? PB 1604
Consumer Package Labeling Guide: Selling By Volume – US Department of Commerce
Labeling
This kitchen and kitchen equipment has been exposed to peanuts and other potential allergens and your labeling needs to reflect that. "Allergy information: Manufactured in a facility that also processes foods that may contain: Milk, Eggs, Peanuts, Tree Nuts, Fish, Shellfish, Soy, and Wheat."
About Us
The University of Tennessee Extension is a statewide educational organization, funded by federal, state and local government, that brings research-based information about agriculture, family and consumer sciences, and resource development to the people of Tennessee where they live and work.
The UT Extension, Cannon County Kitchen was constructed using a $20,000 United States Department of Agriculture Rural Development, Rural Business Enterprise Grant and Cannon County Government funds. It is our hope to provide an affordable kitchen space in which to start a food business, due to the new laws that may prevent clientele from producing at home.